For our first Blog post, it is quite fitting that one of our long time students Connor Ingram has earned the honor of playing for Canada in the World Junior Hockey Championships! Connor started coming to Goal Tec for private lessons and equipment a decade ago as a young Atom from Imperial, Saskatchewan. Over the years he learned the proper fundamentals of goaltending that we offer all of our students. Staying on his feet as long as possible, controlling rebounds and having active hands are all traits that allowed him to excel and reach the highest level. In 2014, his perseverance paid off and he made the Midget AAA P.A. Mintos, a year that was highlighted by winning the Telus Cup. Connor was brilliant, making 60 saves in a dramatic triple overtime win. After several seasons of strong play in Kamloops, Connor was drafted in the 3rd round of the NHL draft(88th overall) to the Tampa Bay Lightning. Playing in the World Juniors would be an incredible amount of pressure for most, but for Connor this is not his first rodeo. The experience of playing on TSN to a massive crowd in the Telus Cup will be invaluable in the pressure packed World Juniors. We are extremely proud of his ascent to being one of the top young goalies in the world and wish him luck going for gold!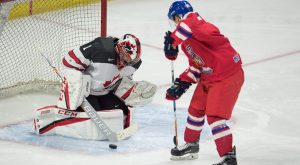 When it comes to Goal Tec students going for gold at the World Junior Championships, this is not OUR first rodeo. In 2009, long time student Dustin Tokarski won gold for Canada. Dustin had followed a similar path as Connor, finding a home and starring with the P.A. Mintos Midget AAA team where he also won the Telus Cup.  He parlayed that fine play into a spot with the Spokane Chiefs of the WHL where he went on to win the Memorial Cup in 2008. After his terrific play in the Memorial Cup, Dustin was drafted by the Tampa Bay Lightning. It seems that Tampa Bay likes their Goal Tec goalies! After being drafted, Dustin has since played with Tampa Bay, Montreal and currently plays in the Anaheim system.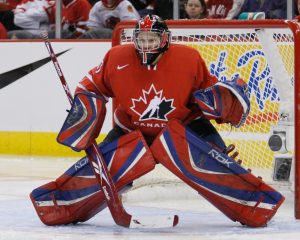 The path to stardom is eerily similar for these two goaltenders. Both Dustin and Connor hail from small town Saskatchewan, both starred for the P.A. Mintos in the Telus Cup, and both have turned excellent WHL careers into the chance to be the starting goaltender for Canada at the World Juniors. Connor and Dustin trained as young goaltenders at Goal Tec to develop their skills and trusted our staff to outfit them in the proper equipment to suit their styles. Both goaltenders still entrust their offseason training to the highly skilled coaches at Goal Tec.  To get to that level, to be one of the best in the world, is no easy task. It takes dedication, hard work, an extremely high compete level, and the ability to listen and learn from your coaches. These two goalies, just like any goalie that comes to Goal Tec, had to ask themselves the same question, "Do I want to be good, or do I want to be great?" We pick the latter.
Good luck Connor and Go Canada Go!
Please feel free to Share!