Custom Goalie Mask Painting
Goal Tec Shipping Policy
FREE SHIPPING on multi-item orders.
GOAL PADS and GOAL STICKS will incur an oversize shipping charge of $20.00.
Goal Tec can only ship new items within Canada.
Once an item is shipped the customer will be provided with a tracking number.
At Goal Tec, we'll admit we're a little biased when we say that goalies have the best job on the ice. One of the unique perks that comes with playing this position is the opportunity to wear a one-of-a-kind mask. This isn't something reserved for just the professionals, either. We offer custom goalie mask painting right here at Goal Tec.
The tradition of goalies personalizing their masks goes back decades. The improvements in safety and materials with today's masks have the added benefit of giving more space for a goalie to get creative with the look of his or her mask. Fiberglass masks make the perfect canvas for airbrushing, which allows almost limitless options for customization.
Bring your ideas to our staff artists or meet with them to come up with a design that's just right for you. We'll put our experience and creative skills to work so that you can have a mask that reflects your style. Your confidence will rise to a whole new level every time you take the ice.
Have Some Personality!
Do you want to look like Corey Crawford, Marc-Andre Fleury, or Roberto Luongo? We can make it happen. We provide professional custom goalie mask painting for any fiberglass mask with any custom design you want. For approx. $450.00 CDN, depending on the level of difficulty, we can paint your mask and clear coat it professionally. Even better, it can be done within a one week period. You won't have to wait long to start wearing your new colors.
Look cool just like the NHL goaltenders. Have your mask painted today! Stop by our locations in Saskatoon or Regina or call (306) 242-6035 to get started. Here's some of our previous work: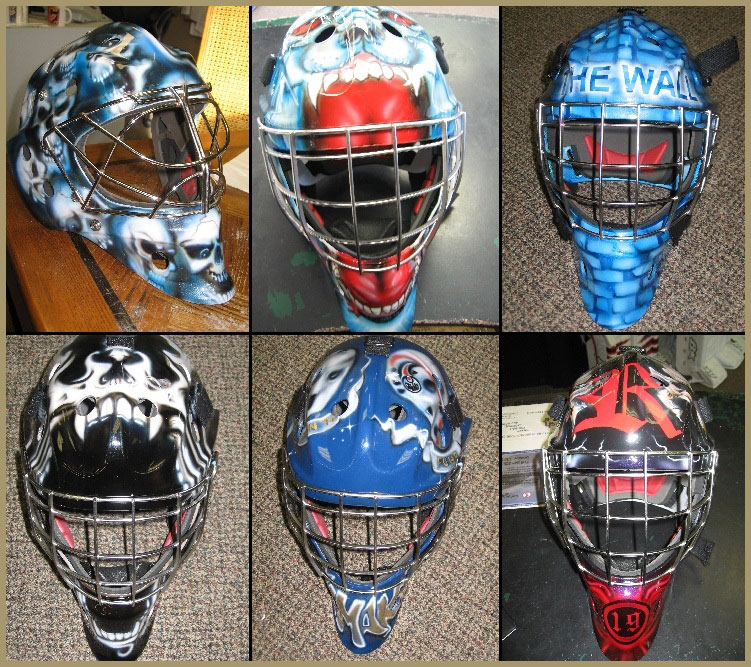 On top of the Huge Inventory of the latest equipment, Goal Tec is also home to
private goaltender training
. With lessons ranging from Beginner to Pro L
evel
, there is something for you!